Another Year Counting on LCP To Deliver Results
A strategic workplan focused on business growth and leveraging Lake County's incredible talent and real estate really added up in 2022.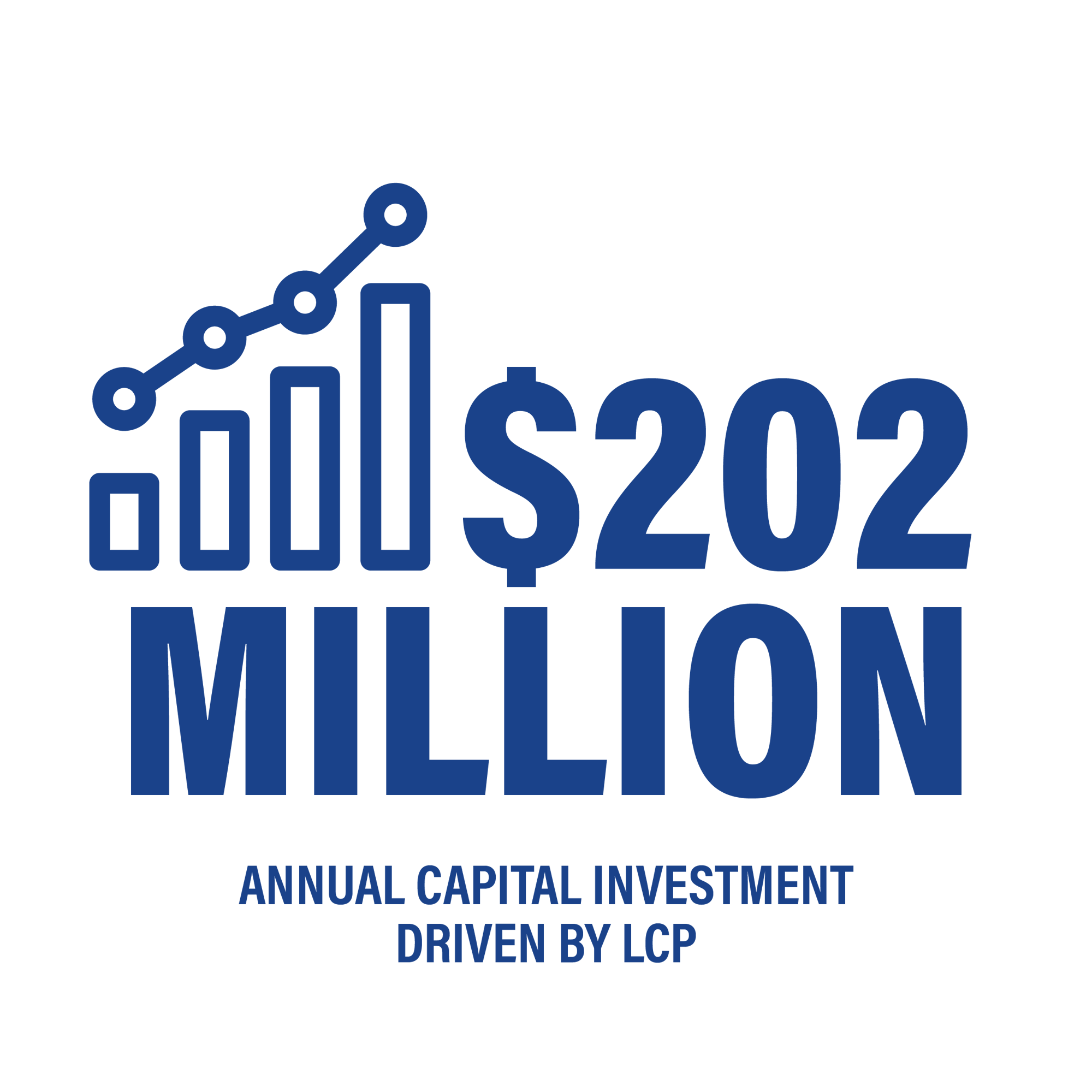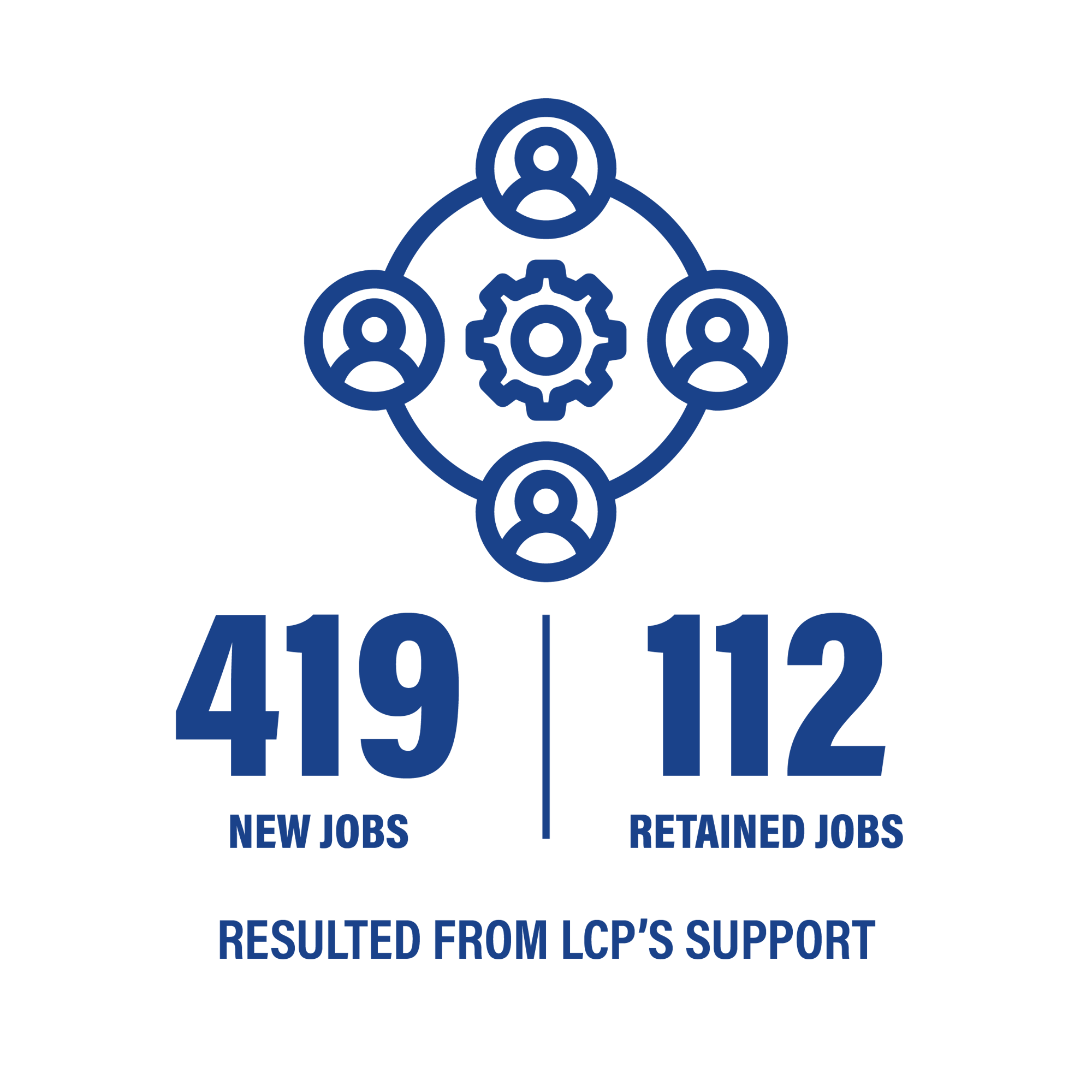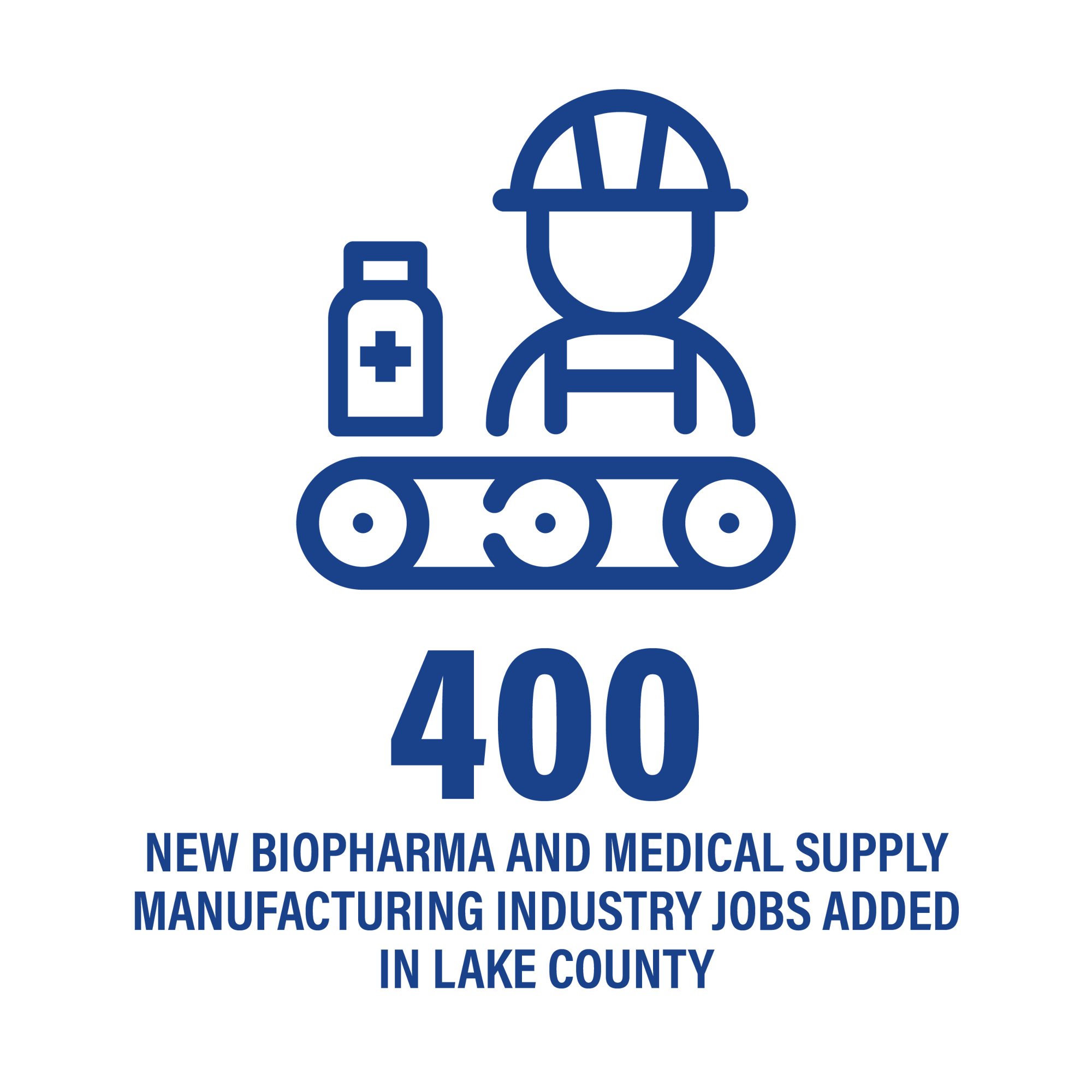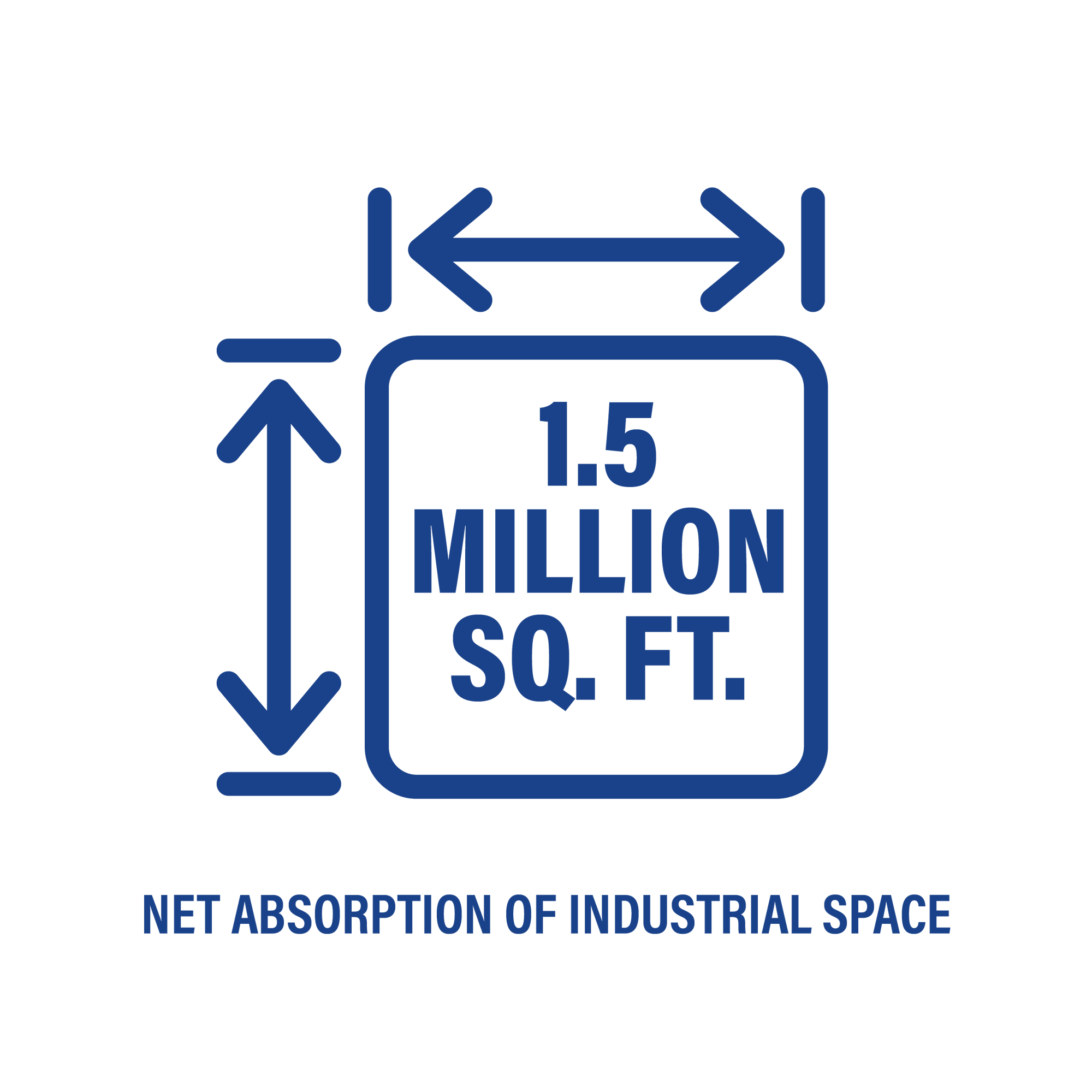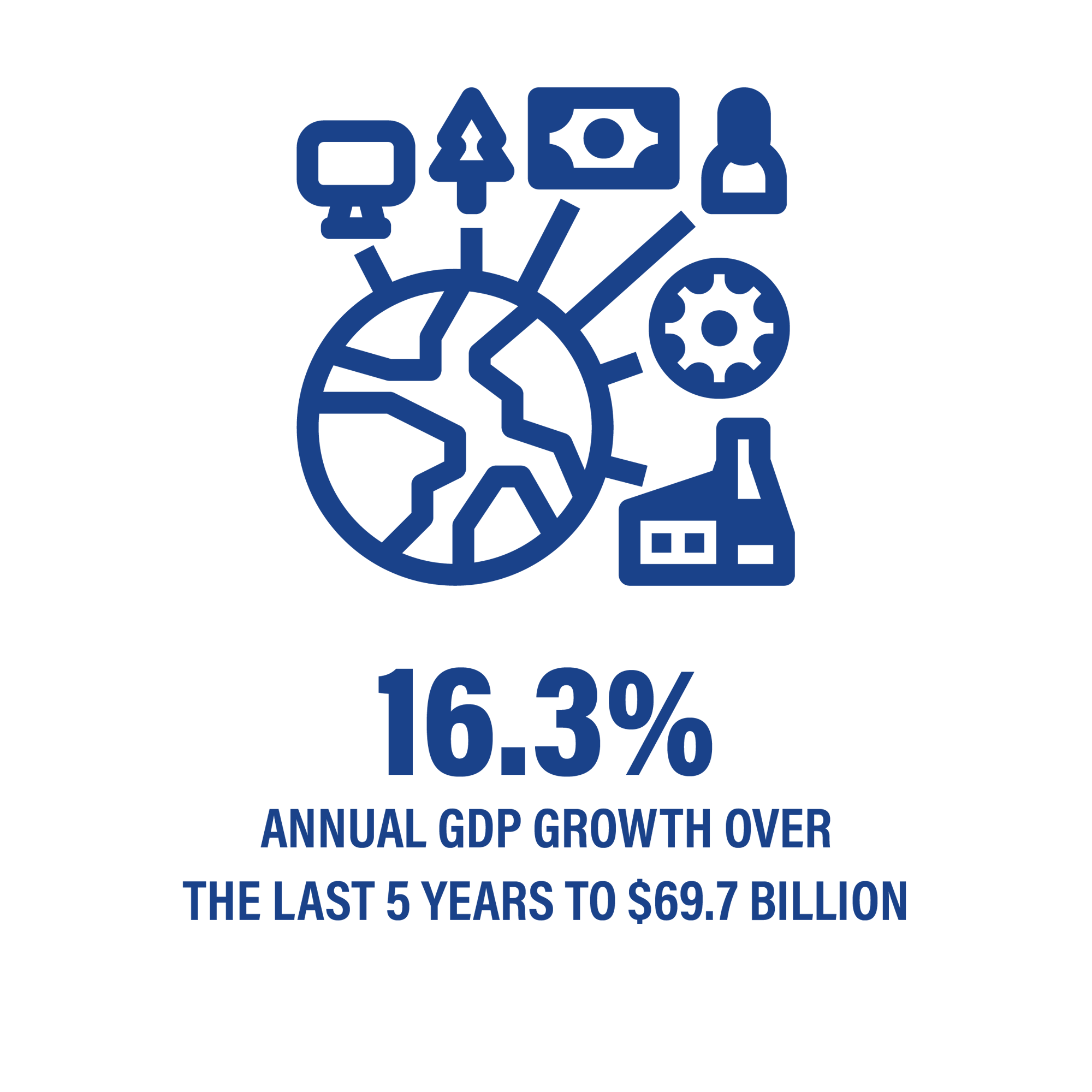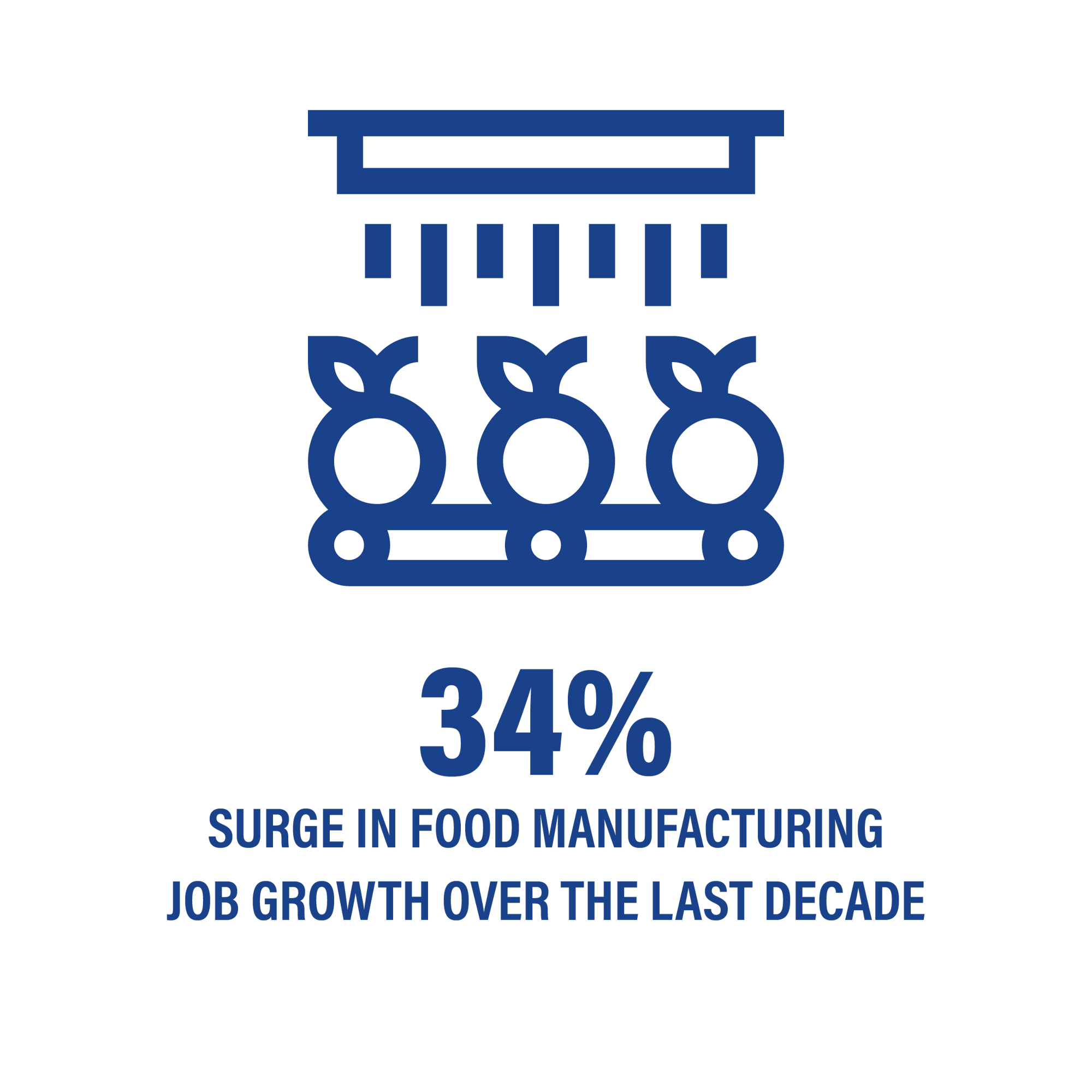 Over the last four years alone, LCP fueled $617 million in direct capital investment,
created 3,659 new jobs and retained 4,227 existing jobs.

Manufacturers Made Major Moves in 2022
Lake County continued to enjoy tremendous growth in advanced manufacturing this year, thanks to LCP's hands-on support.
Belle Aire Creations
Belle Aire Creations worked with LCP to celebrate a sustainable 40,000 sq. ft. facility in Round Lake Park, a short distance away from its main campus in Mundelein. The new facility quadrupled the company's manufacturing footprint, and created 15 new jobs that shortened lead times and increased capacity. The company is also currently expanding in Libertyville with a new global headquarters and creative center.
Graph-Pak
Graph-Pak Corporation—a 35-year leader in the design, manufacture and distribution of paperboard packaging—relocated into a 207,000 sq. ft. facility in Island Lake. The project represented a $7 million capital investment and created 110 new jobs. LCP worked with the state and leveraged Enterprise Zone economic incentives to keep Graph-Pak in Illinois.
Quaker Houghton
Quaker Houghton, a global leader in industrial process fluids, committed to a $25 million retrofit and expansion of portions of its 75,000 sq. ft. Zion facility. LCP teamed with the state to provide Enterprise Zone economic incentives, including those that exempted the company from state and local sales taxes on eligible building material purchases to offset project costs. The project retained 31 employees and created 10 new jobs.
Margolin Fanletic
Margolin Fanletic, an Illinois-based e-commerce apparel and shoe retailer, purchased a 232,000 sq. ft. building in Gurnee to expand its warehouse and distribution operations. This $17 million capital investment created 40 new jobs. LCP worked with the company to leverage Enterprise Zone economic incentives and defray a portion of the retrofit expenses.
RealWheels Corporation
Since 1978, RealWheels has manufactured stainless steel accessories for heavy-duty trucks and vehicles. With demand growing and new product development underway, RealWheels worked with LCP to expand into a 65,000 sq. ft. facility in Zion. LCP coordinated with city officials and the state to help RealWheels tap into TIF, EDGE, and Enterprise Zone incentives. As a result, RealWheels invested $6 million, retained 45 local employees and hired 15 new people.
Advanced Prototype Molding
For more than 40 years, Advanced Prototype Molding (APM) has been providing its prototype molding services via a wide range of capabilities including 3d printing, RTV molding, and tool and die. With business booming, APM made a capital investment of $5 million to expand into a new 50,000 sq. ft. facility and create 45 new jobs in Wauconda. With LCP's help, APM tapped into a suite of incentives including TIF, Enterprise Zone, and EDGE.
Lake County has the Largest Collection of Fortune 500 Companies in the Midwest Outside the Chicago Loop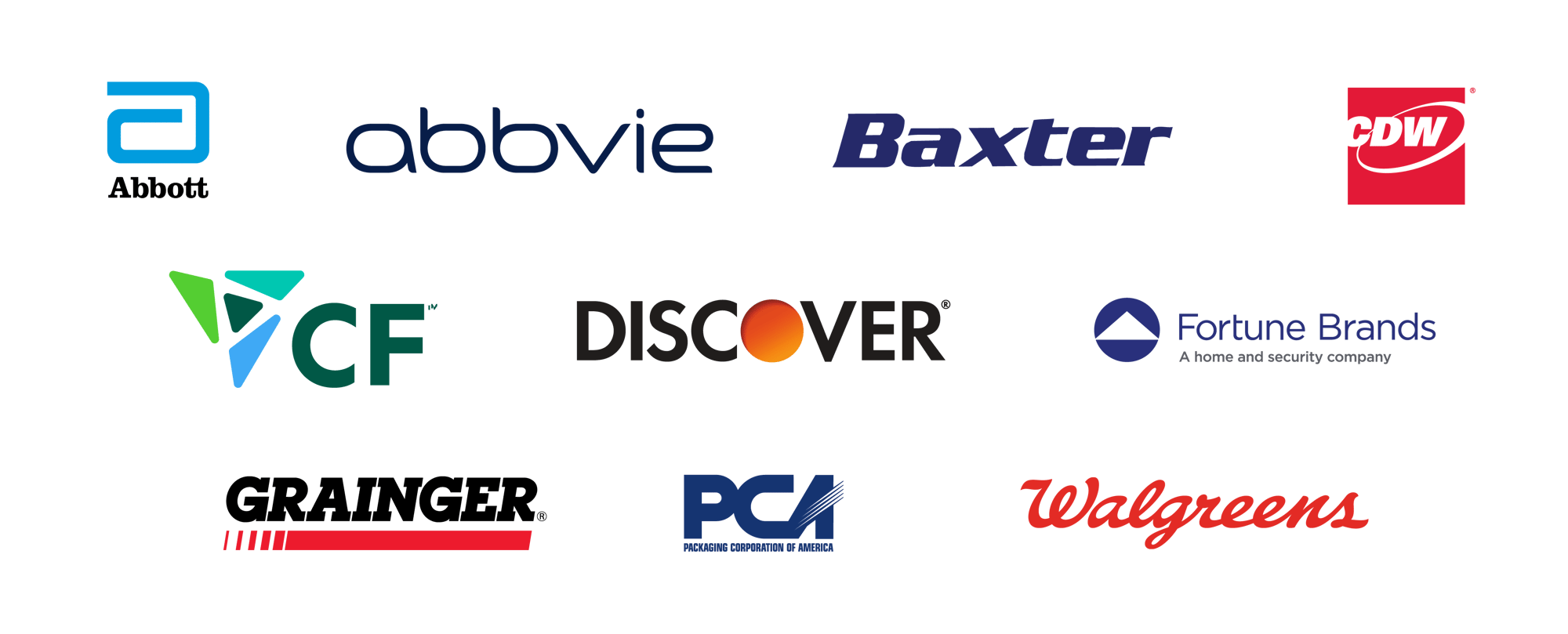 2022 Was BIG for Business
Lake County is the home of choice for major corporations, and growth was particularly prominent in
the key industries of life science, manufacturing, professional services and healthcare.
Advocate Aurora Health
Libertyville, Healthcare

City of Hope
Zion, Healthcare
ECHO, Inc.
Lake Zurich, Equipment

Eagle Family Foods
Waukegan, Snack Foods

Henry Broch Foods
Waukegan, Food Ingredient Manufacturing
HydraForce, Inc.
Lincolnshire, Manufacturing & Distribution

Medline Industries, Inc.
Mundelein, Manufacturing & Distribution

NorthShore University HealthSystem
Highland Park, Healthcare

Northwestern Medicine
Lake Forest, Healthcare

Siemens Building Technologies
Buffalo Grove, Technology

Smalley Steel Ring Co.
Lake Zurich, Manufacturing

Synergy Flavors
Wauconda, Food Manufacturing

Trustmark Insurance Company
Lake Forest, Insurance & Employee Benefits

Vista Health System
Waukegan, Healthcare

Visual Pak
Waukegan, Packaging
Woodland Foods
Waukegan, Food Manufacturing


Abbott Laboratories
Abbott Park, Medical Products

AbbVie, Inc.
North Chicago, Pharmaceuticals

Alight
Lincolnshire, Human Capital Management

Aon
Lincolnshire, Insurance

BD
Vernon Hills, Medical Products

Baxter International
Deerfield, Pharmaceuticals and Medical Products

CDW Corporation
Lincolnshire, Technology

Discover
Riverwoods, Financial Services

Flex
Buffalo Grove, Manufacturing

Fresenius Kabi USA
Lake Zurich, Pharmaceuticals & Medical Products

Horizon Therapeutics
Deerfield, Pharmaceuticals

Pfizer, Inc.
Lake Forest, Pharmaceuticals

Takeda Pharmaceuticals USA, Inc.
Bannockburn, Pharmaceuticals

Walgreens Boots Alliance, Inc.
Deerfield, Drug Stores

W.W. Grainger
Lake Forest, Equipment Distribution

Zebra Technologies Corporation
Lincolnshire, Technology Services


Lake County's workforce sets it apart, which is why community leaders made talent access and development a priority in 2022. The year was marked by major investments in STEM and manufacturing education at local schools.
Rosalind Franklin University
Rosalind Franklin University launched the Helix 51 incubator over four years ago to advance early-stage and start-up life science companies in Lake County.
Since its inception, Helix 51 has welcomed 15 companies specializing in fields such as oncology, cardiovascular health, infection disease, fibrotic disease and fibromyalgia.
Using $2 million in matching funds from the Illinois Department of Commerce's wetlab buildout program awarded in 2022, RFU invested in the build out an additional 14,000 sq. ft. of wetlab space in the IRP that was recently completed and is now coming online.
College of Lake County
The College of Lake County celebrated the grand opening of its crown jewel of manufacturing education: the incredible Advanced Technology Center (ATC) in Gurnee.
The ATC is strengthening Lake County's workforce by providing industry-relevant career pathways focused on industrial technology, fabrication, and welding. It has also provided a space to nurture relationships with local manufacturers.
Phase 2 of the project, currently under consideration, will reimagine the other half of the facility and reflect the input from the broader community and local manufacturing leaders.
Lake County Tech Campus
The Tech Campus was established nearly fifty years ago to pool together local educational resources to educate high school students. Today, it is an extension of 22 area high schools spanning Lake and McHenry counties.
In 2022, the Tech Campus welcomed 1,900 students—its largest cohort in the past 10 years, which solidified its position as the biggest career technical secondary educational center in the entire state of Illinois. It is also the largest career center in the state, in space and student population.
Along with enrollment growth has come innovative programs that directly align with local employer needs.
Putting the CEDS Into Action
After a robust process involving business, community, education and workforce stakeholders, LCP finalized a new Comprehensive Economic Development Strategy (CEDS) for the county to create jobs, fuel collaboration and strengthen the economy. LCP spent 2022 presenting the CEDS to and receiving endorsements from Lake County Partners' Board of Governors, the Lake County Board, the College of Lake County Board of Trustees, and the Lake County Workforce Development Board before formally submitting the document to the U.S. Economic Development Administration.
While the CEDS reinforces the importance of business retention and attraction, it goes further to explore structural issues that create the foundation for healthy and inclusive economic growth across the vibrant and diverse communities in Lake County. As a result, LCP has spearheaded several major initiatives to support the goals of the CEDS:
Early Childhood Eduation
Lake County is an excellent best place to be a child and raise a family, but there are opportunities to enhance its support systems for children and families from the prenatal period through age five.
Investments of this nature would help fortify Lake County's talent pipeline and make it possible for more parents in their prime working years to pursue career opportunities without sacrificing the care or education of their children.
LCP is working with a group of philanthropic and educational partners to build on the results of a landscape assessment of the early childhood system, and design a path forward to providing critical services to every child and family who needs them.
Housing Growth
Talent is a major consideration of businesses considering investments and expansions, and it goes hand-in-hand with housing.
A tight housing market has turned LCP's attention on a study that is examining demand across a variety of types and price points to ensure that Lake County's housing landscape is competitive and attractive.
The final study, scheduled to be completed in late 2023, will help communities make land use, transportation and infrastructure decisions and identify opportunities for reuse of underutilized spaces.
Broadening Collaborations
The CEDS challenged LCP to expand the scope of its work, inviting conversations about how Lake County fits within the region, the Midwest and the global economy; one of the results of this discussion was the formation of the Greater Chicagoland Economic Partnership.
The CEDS also dug into socioeconomic themes, encouraging a deeper look at LCP's diversity, equity and inclusion initiatives. LCP subsequently amended its bylaws for the first time in nearly 20 years to ensure that its guiding principals are reflective and respectful of Lake County's vibrant and diverse community. To further support this goal, LCP staff also assumed leadership roles on boards tackling wide-ranging issues like land use, affordable housing, community health, college and career awareness, workforce development, transportation and transit.
Growing a Greater Chicagoland
Regional leaders spent 2022 working together to establish the Greater Chicagoland Economic Partnership (GCEP), a first-of-its-kind united effort including the City of Chicago, Cook County, Lake County and five other counties across metropolitan Chicago, to drive a regional economic strategy that will deliver mutual benefits to partners, and strengthen Chicagoland's economic force in an increasingly fierce competitive global market.
With financial commitment from each of the partners totaling $1 million for the first in a three year pilot, World Business Chicago is managing the new partnership, having expanding its services region-wide to complement existing municipal and county programs.
GCEP is focused on promoting the region's many assets, including extensive freight infrastructure, diverse talent, strong exporting industries, and world-class institutions of innovation, research, and culture to develop a competitive global identity. As a result, international engagement is now coordinated among the partners to optimize resources like market research and asset mapping and achieve greater efficiency and scale.
Centered on Collaboration & Community
In many ways, 2022 was about making a social comeback. LCP's in-person events had been on a pandemic-induced hiatus, and there was clear demand for resurrecting popular gatherings like the Big Event and beginning new traditions.
GCEP Events
Since its inception, GCEP has provided plenty of opportunities for regional leaders to collaborate, highlight industry trends, draw attention to local innovation, and attract business leaders and investment.
Invested Together
LCP hosted its inaugural "Invested Together" investor event at Independence Grove to encourage networking, strengthen local connections, and celebrate Lake County's booming economy.
Municipal Meeting Series
LCP built on its longstanding meeting series for municipal partners, made possible by the support of Libertyville Bank & Trust, N.A. The meetings continue to reinforce LCP's strong ties with community leaders.
We are Your Go-To Partner for Business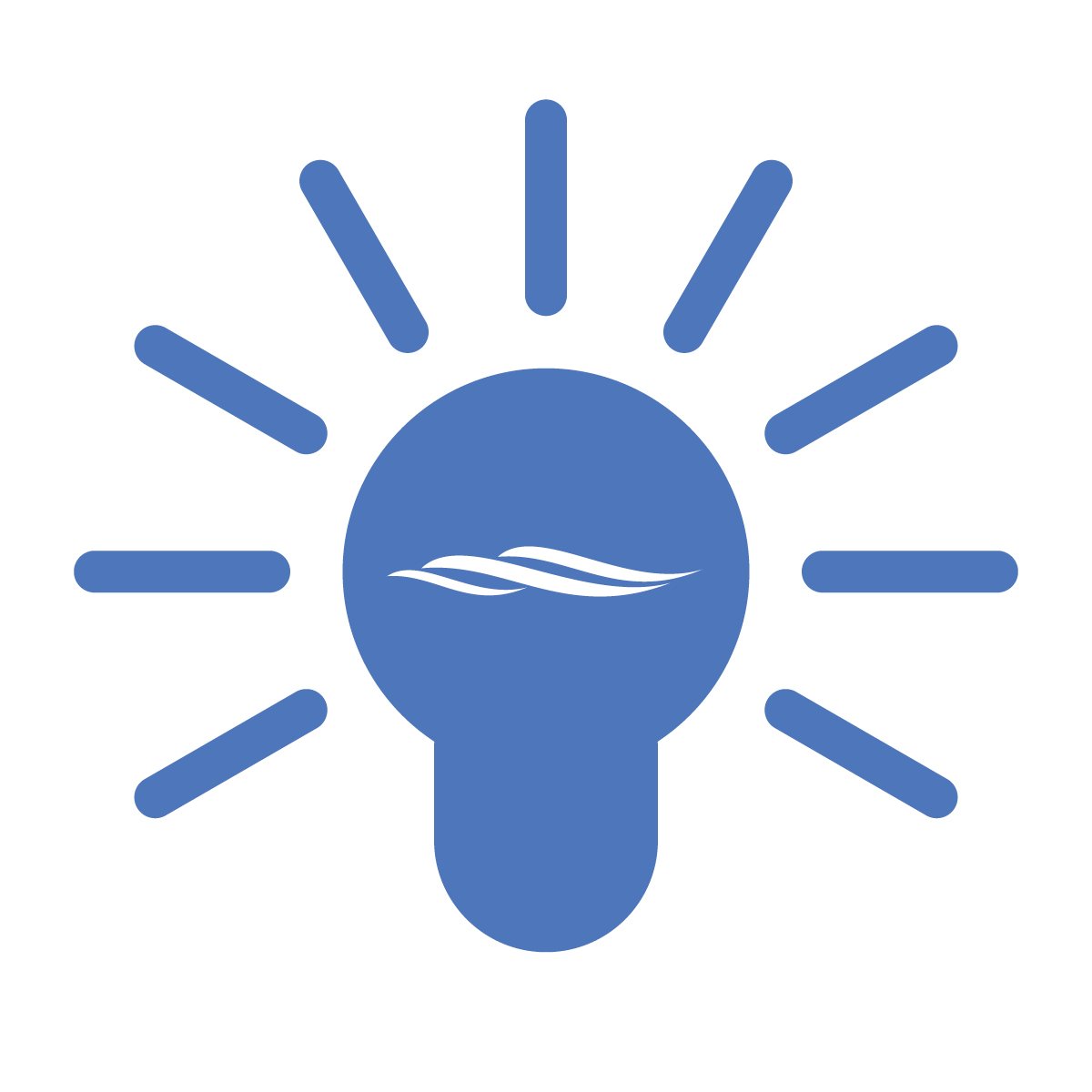 Lake County Partners transforms economic opportunities into business realities by facilitating public and private collaboration to improve the local business climate. We fuel growth by strategically nurturing the business climate on three fronts:
Attracting & Expanding Business: We encourage investment, expansion and relocation to Lake County. From new developments to facility expansions, we connect real estate, development, utility and public sector partners to find solutions and help businesses grow in Lake County.
Attracting & Developing Talent: We facilitate innovative partnerships and initiatives to strategically deepen the talent pool for targeted industries. By building an in-demand workforce pipeline, starting in Lake County middle schools and extending through graduate schools, we join our partners in cultivating, upskilling and attracting the people that businesses need.
Convening Business Leaders: We are the only entity in Lake County that is positioned to build coalitions of public and private sector partnerships to drive economic development.
LAKE COUNTY'S ECONOMY BENEFITS FROM OUR ESTEEMED BOARD OF GOVERNORS
David Alexander
Managing Member
Alexander Law, LLC

Marah Altenberg
Lake County Board Member
Lake County Government

Christopher R Blaylock, CPA
Partner
Wipfli, LLC

Darren Boundy
External Affairs Manager
ComEd

Derrick Burress
Principal
Lake County Tech Campus

Kevin Considine
President & CEO
Lake County Partners

Gabrielle Cummings
President, Legacy Acute Care Operations and Highland Park Hospital
NorthShore University HealthSystem

Jack Danilkowicz
SVP, Commercial Strategy & General Manager
Horizon Therapeutics

Frank Deuel
Senior Manager of Government Affairs
Comcast

Lawrence W. Falbe (General Counsel)
Principal
Miller Canfield
John Frese
Vice President of Corporate Services and Administration
Baxter International Inc.
Trent Gordon
Vice President, Business Development, Northern Illinois Patient Service Area
Advocate Aurora Health

Don Hansen (Treasurer Through May 2023)
Senior Manager of Real Estate
W.W. Grainger, Inc.

Sandy Hart
Lake County Board Member
Lake County Government

Jim Hawkins
Deputy County Administrator
Lake County Government

J. Kevin Hunter
Lake County Board Member
Lake County Government

Thomas Hutchinson
Commercial/National Accounts Executive
Nicor Gas
Daniel J. Joyce
Chief Financial Officer
BCI Acrylic, Inc.

Richard Korengold (Chair Through May 2023)
Senior Managing Director, Wealth Advisor
Mesirow Wealth Management

Angelo D. Kyle
President
Lake County Forest Preserves

Charles Lamphere
President & CEO
Van Vlissingen & Company

Connie Lavin
Market President & Commercial Group Head
Old National Bank

Christina Lechter*
Director, External Affairs, Intercontinental Intl. Gov. Affairs
AbbVie
Joseph Luna
Executive Director, Middle Marketing Banking, Commercial Banking
JPMorgan Chase

Steve Madden (Vice Chair Through May 2023)
CEO
Libertyville Bank & Trust Company, N.A.

Dr. Kevin Myers
Superintendent
Mundelein High School Districts #75 and #120

Donovan Pepper
Senior Director, Government Relations & Civic Engagement
Walgreen Co.

Dr. Wendy Rheault
President & CEO
Rosalind Franklin University of Medicine and Science

James L. Rolfe
Managing Director, Middle Market Banking
CIBC

Bria Scudder*
SGA Director
AbbVie
Karen Stoneman*
Vice President, Human Resources
Sysmex America, Inc.

Lori Suddick, Ed.D.
President
College of Lake County

Jessica Vealitzek
Lake County Board Member
Lake County Government

Kimberly Wimer
Human Resource Manager
Laser Precision

*Outgoing board member
"Lake County is a great model of economic development. The economy is in excellent shape, and the entire Chicagoland region is poised for future growth."
"There has been tremendous investment, and our economy continues to thrive. In Lake County, you'll find leaders who are willing to work with businesses and open to innovative development that strategically lays the groundwork for future growth."
"Talent in Lake County is highly diverse and supports key industry sectors such as healthcare, manufacturing, and hospitality."
"We have seen the manufacturing results first-hand in Lake County, with more than $617 million in direct investment and the creation/retention of more than 7,900 jobs over the last four years alone."
"We've seen momentum across the board, not only in the restaurant and entertainment industries, but also in retail and manufacturing, with several recent big projects."
Let's Connect.
We are a non-profit economic development organization supported by public and private sector investors, and our services are open to the public. We are skilled at quickly assessing your business needs and making sure that you have what you need to succeed.