 2021 Annual Report

After an exciting year of openings and expansions, regional
planning and growth, the future is bright in Lake County.
Lake County is much more than Chicago's neighbor.

The location of choice for 10 Fortune 500 headquarters – the largest in the Midwest outside of the Chicago Loop – Lake County is home to 30,000 businesses and generates $125.4 billion in total annual sales.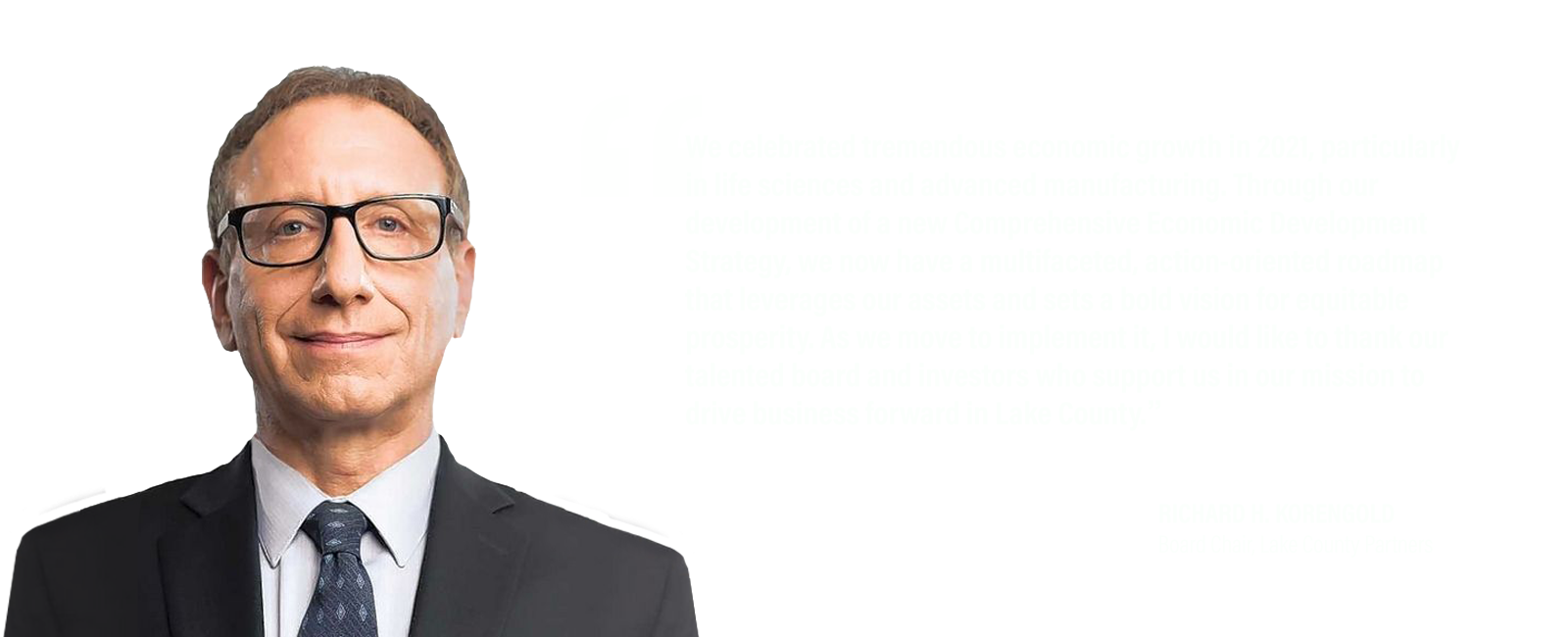 What Makes Lake County Built for Business?

Major markets within an easy drive, a strong business base, first-rate utilities, workforce depth and more. It is no wonder Lake County measures up above the rest.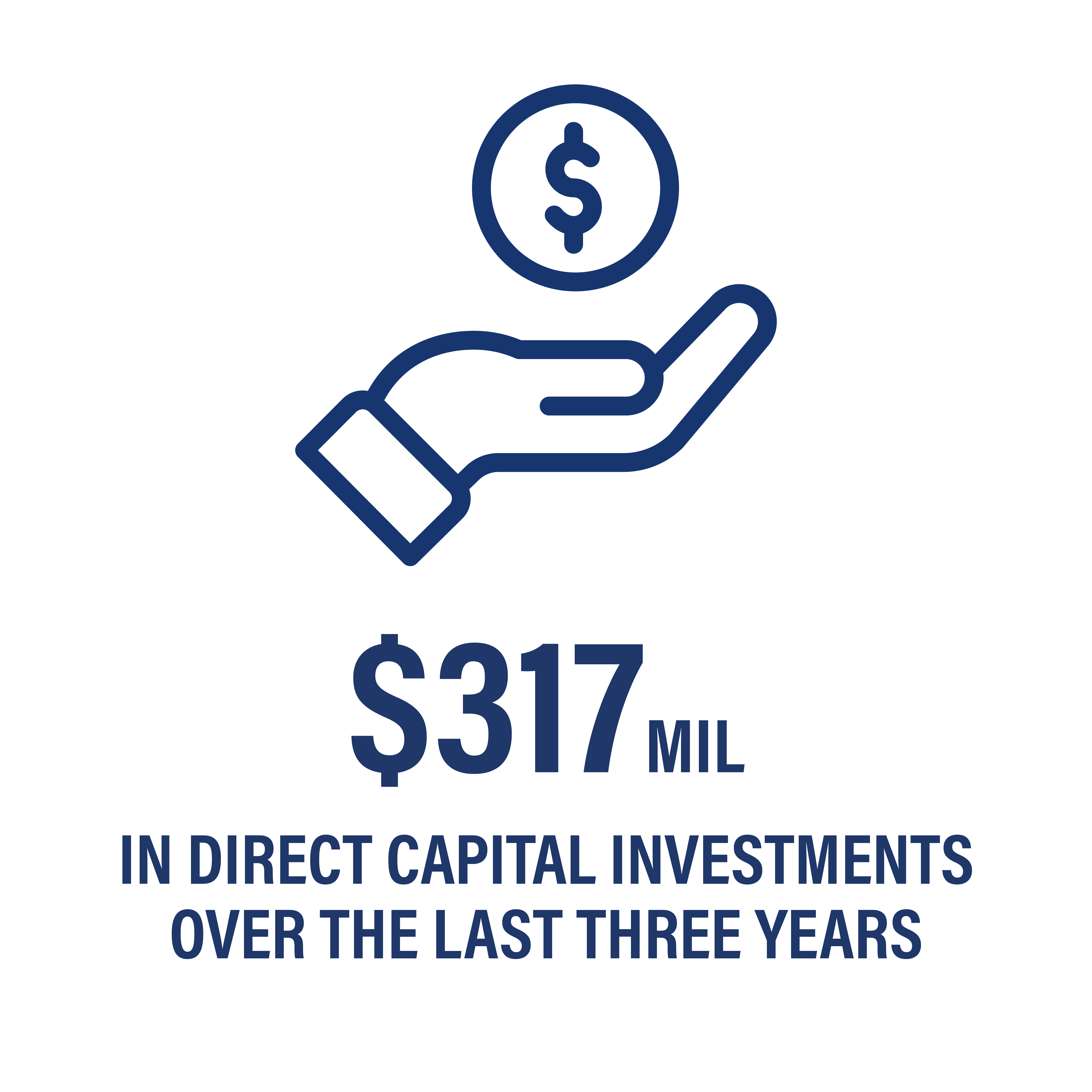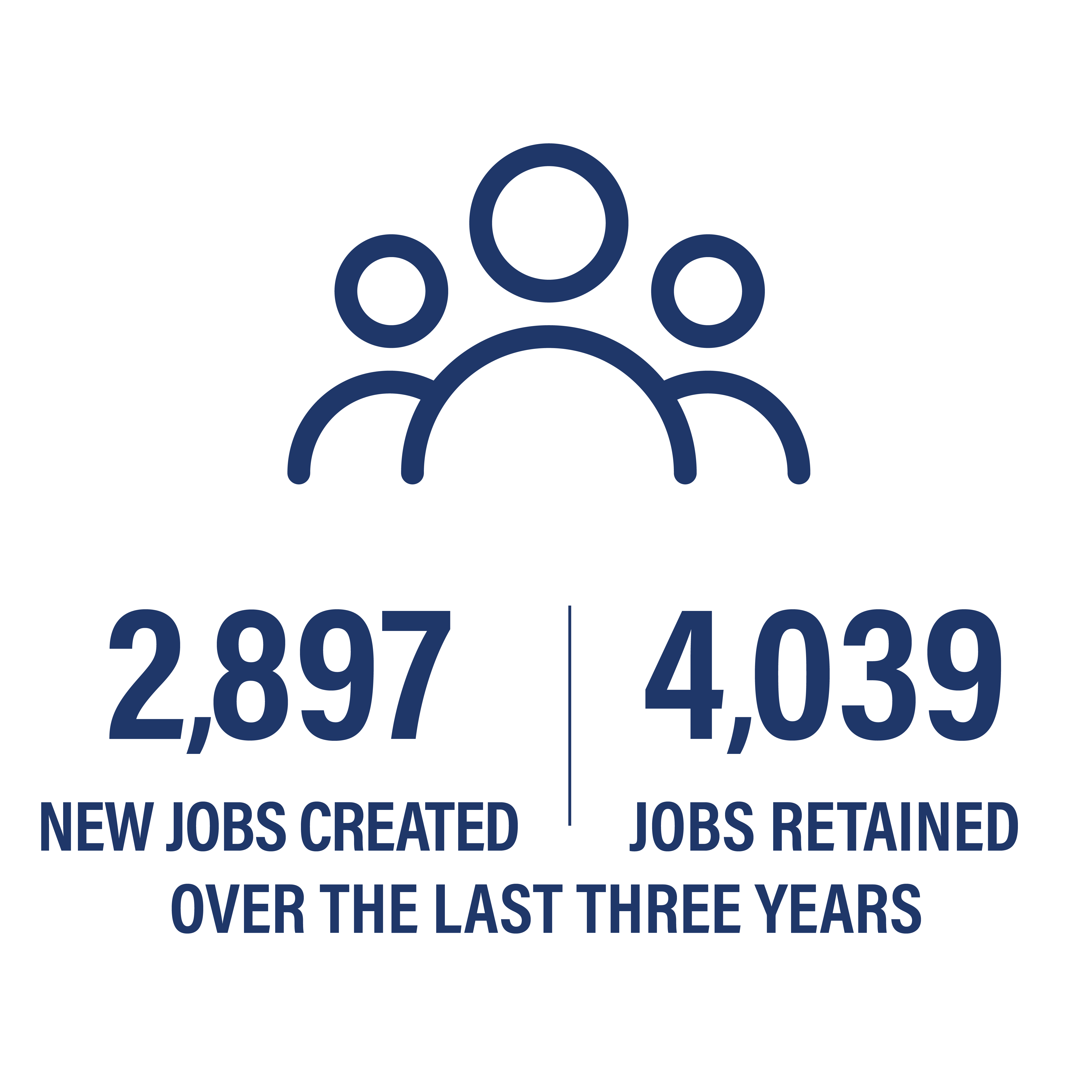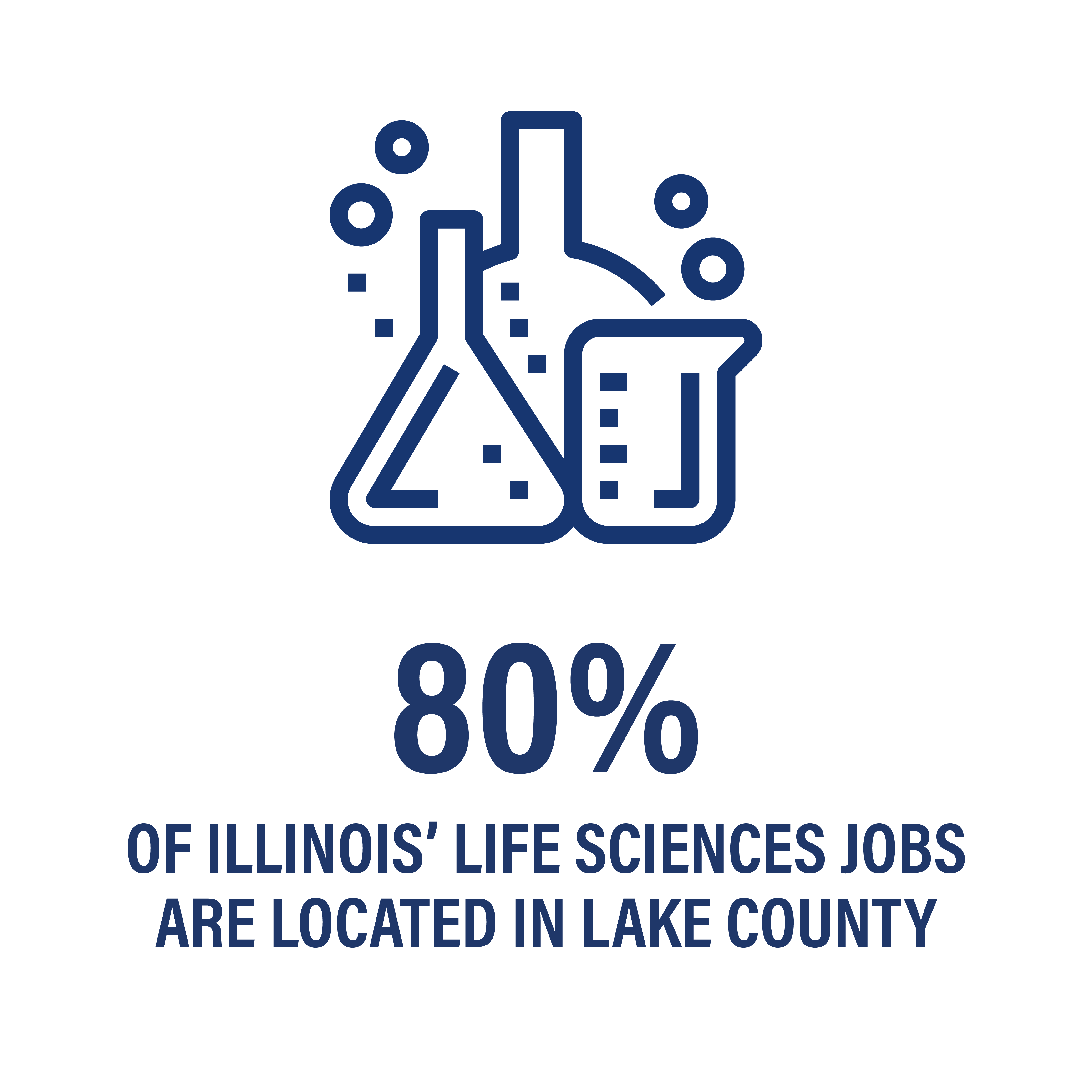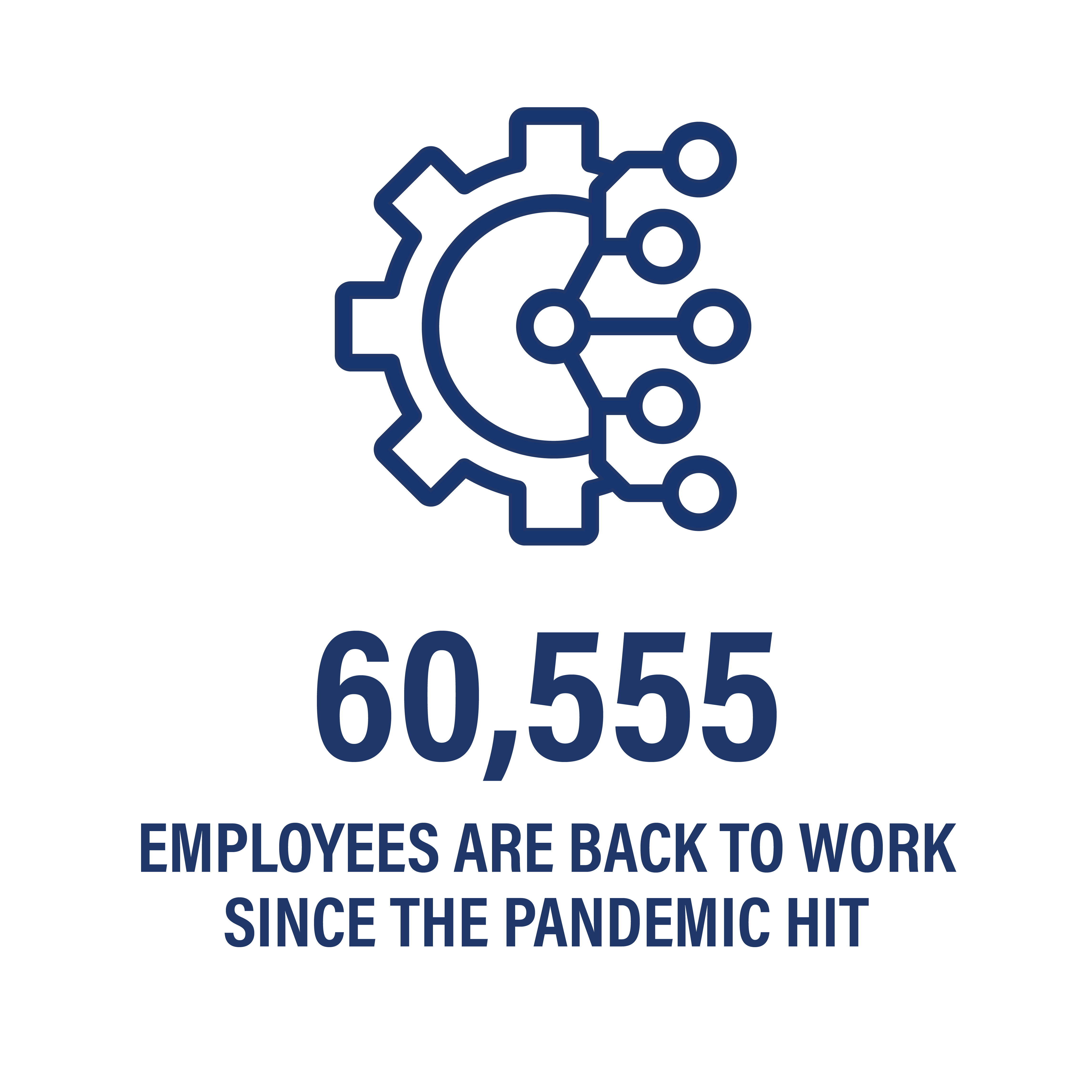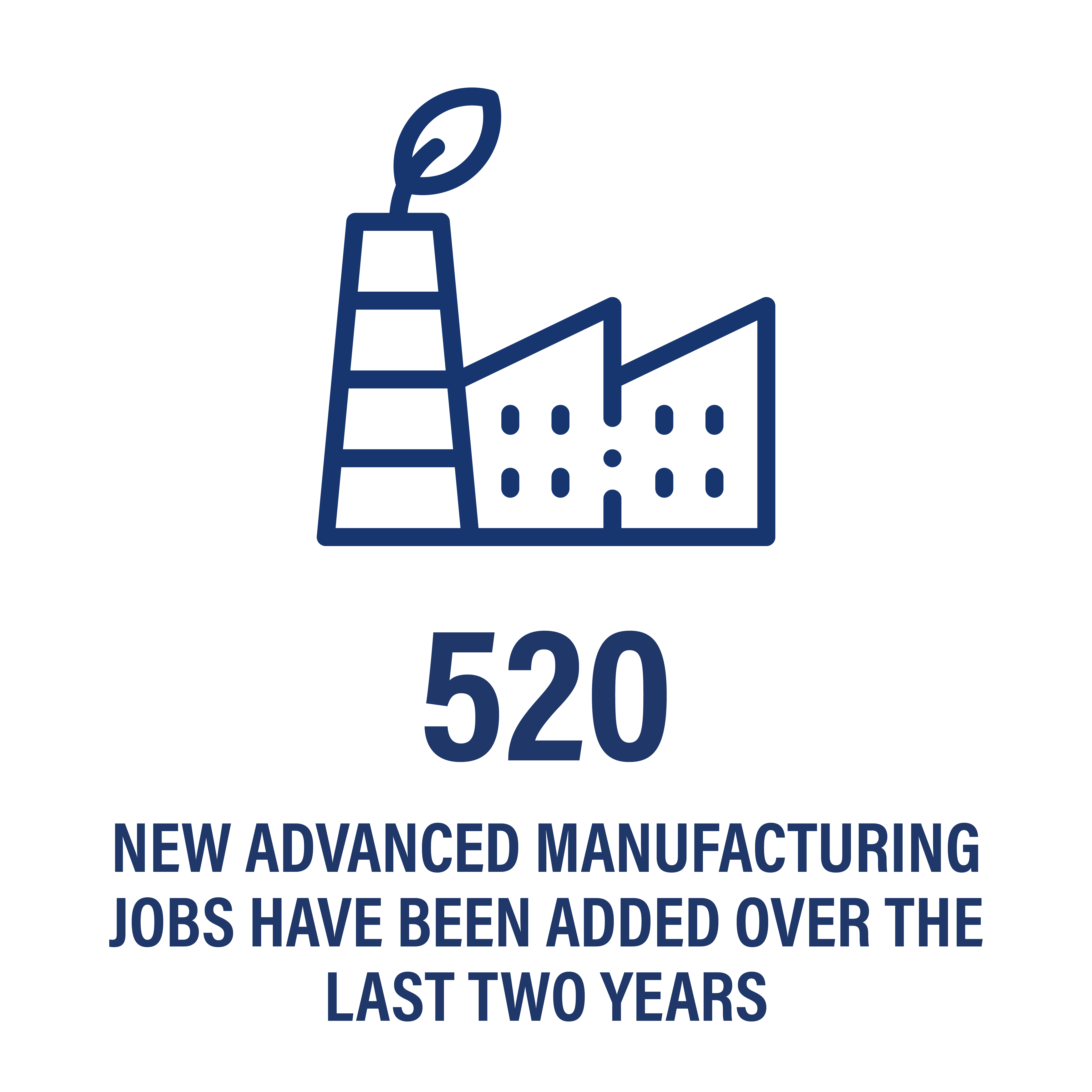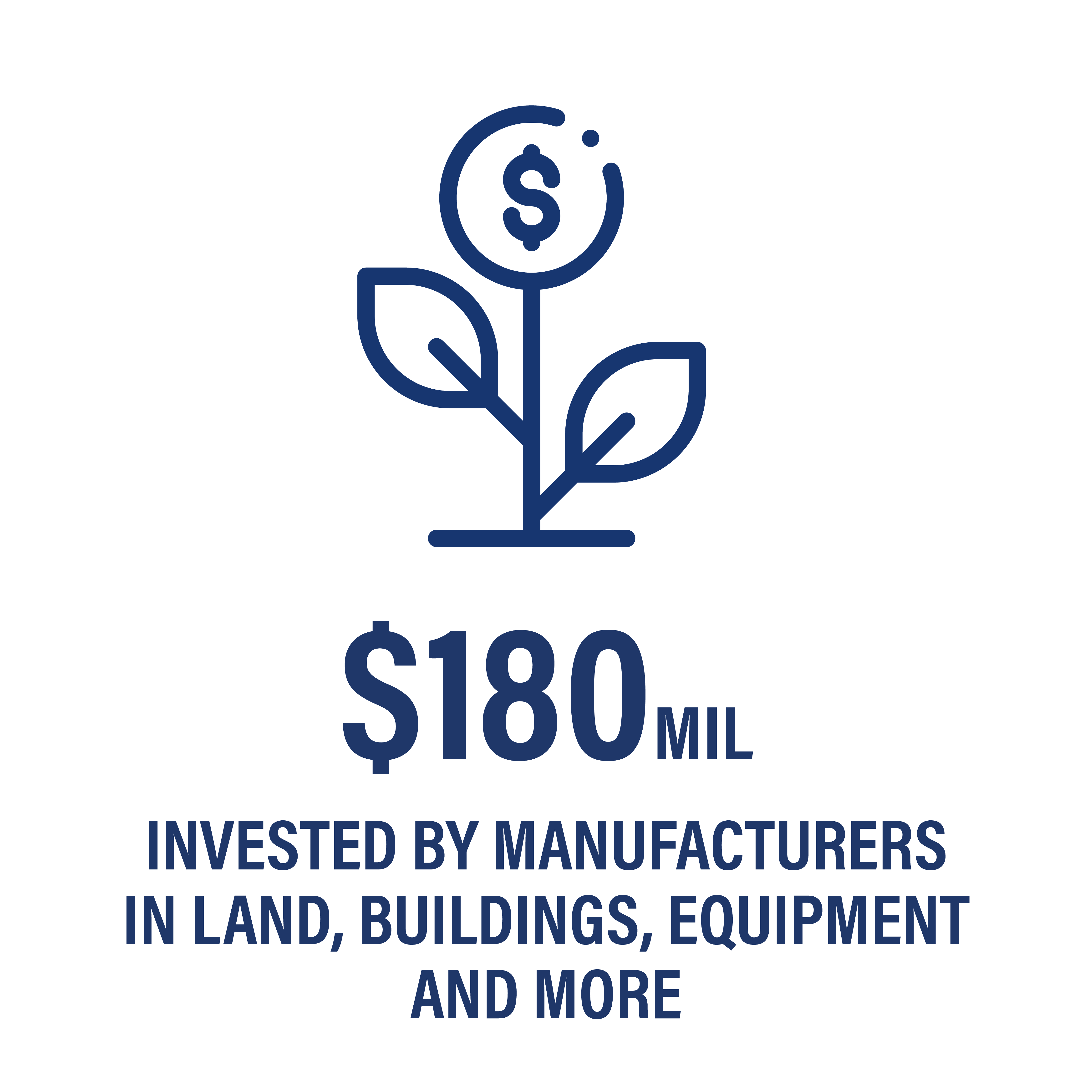 Lake County is a Hub for Advanced Manufacturing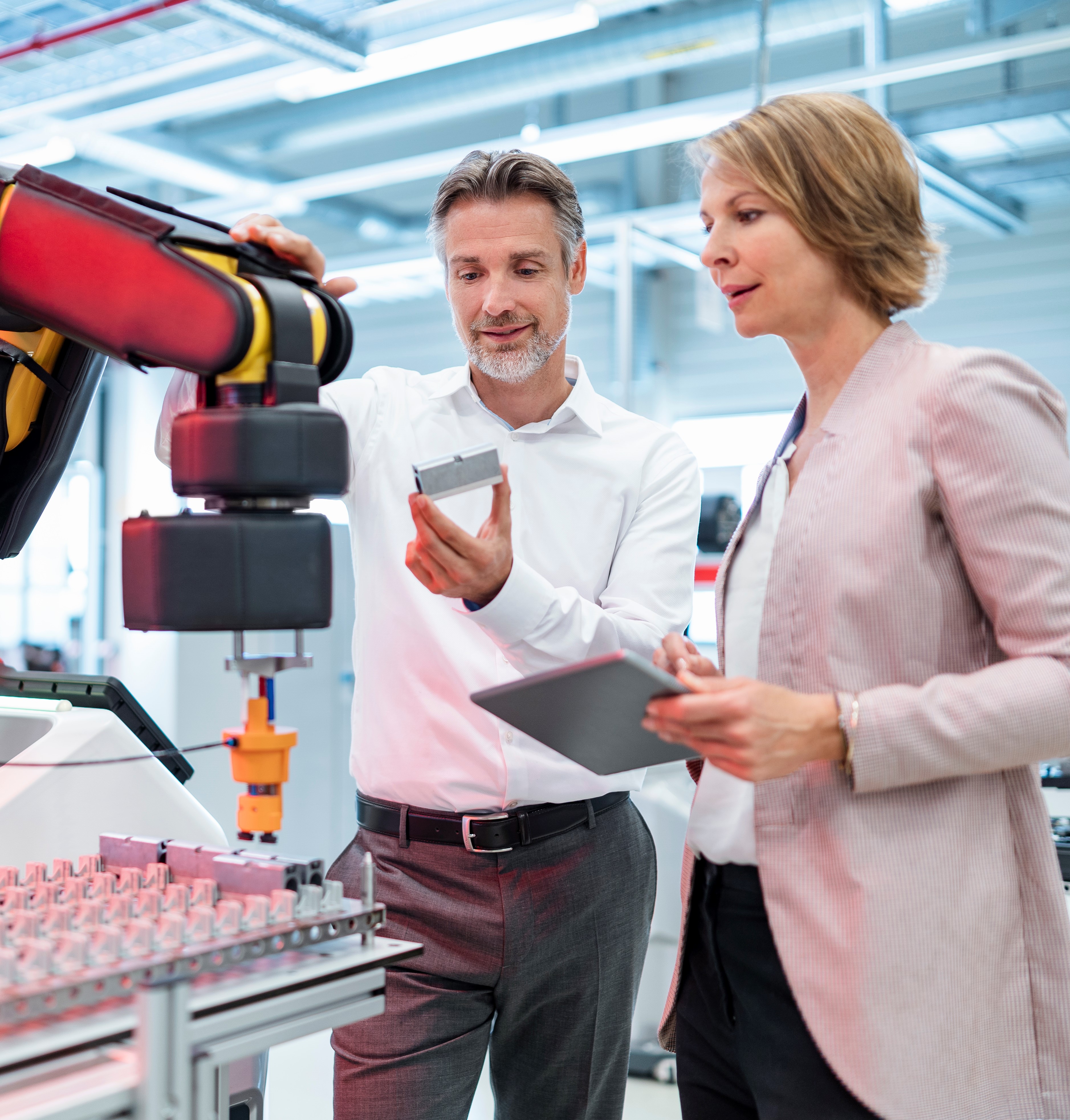 Manufacturers Make All the Right Parts in Lake County
Fifty-year-old pizza chain Lou Malnati's consolidated its corporate offices, manufacturing and fulfillment in Buffalo Grove to respond to rapid growth.

Amazon will open its third Waukegan facility by the end of the year, increasing the number of people working for the company in the city to approximately 1,000 in more than 1.1 million square feet of space.

Medline continued to expand its Lake County footprint with three plants, two offices and a 1.4 million square foot Grayslake distribution center.

HM Manufacturing looked to add a new shift in Wauconda, with the company anticipating up to 26% growth by the end of the year.

Medical device manufacturer Medical Murray completed state-of-the-art expansions at its facilities in North Barrington and Lake Zurich.
Lake County has the Largest Collection of Fortune 500 Companies in the Midwest Outside the Chicago Loop

Lake County is home to 10 Fortune 500 companies and the headquarters of choice for major corporations. Existing businesses are expanding, new businesses are opening and Lake County is growing its key industry sectors of life sciences, advanced manufacturing, professional services and healthcare.
Advocate Aurora Health
Libertyville, Healthcare

Cancer Treatment Centers of America
Zion, Healthcare

Dovenmuehle Mortgage, Inc.
Lake Zurich, Financial Services

ECHO, Inc.
Lake Zurich, Equipment

Eagle Family Foods
Waukegan, Snack Foods

HydraForce, Inc.
Lincolnshire, Manufacturing & Distribution

Medline Industries, Inc.
Mundelein, Manufacturing & Distribution

NorthShore University HealthSystem
Highland Park, Healthcare

Northwestern Medicine
Lake Forest, Healthcare

Siemens Building Technologies
Buffalo Grove, Technology

Smalley Steel Ring Co.
Lake Zurich, Manufacturing

Synergy Flavors
Wauconda, Food Manufacturing

Trustmark Insurance Company
Lake Forest, Insurance & Employee Benefits

Vista Health System
Waukegan, Healthcare

Visual Pak
Waukegan, Packaging
Woodland Foods
Waukegan, Food Manufacturing


Abbott Laboratories
Abbott Park, Medical Products

AbbVie, Inc.
North Chicago, Pharmaceuticals

Alight
Lincolnshire, Human Capital Management

Aon
Lincolnshire, Insurance

BD
Vernon Hills, Medical Products

Baxter International
Deerfield, Pharmaceuticals and Medical Products

CDW Corporation
Lincolnshire, Technology

Discover
Riverwoods, Financial Services

Flex
Buffalo Grove, Manufacturing

Fresenius Kabi USA
Lake Zurich, Pharmaceuticals & Medical Products

Horizon Therapeutics
Lake Forest, Pharmaceuticals

Pfizer, Inc.
Lake Forest, Pharmaceuticals

Takeda Pharmaceuticals USA, Inc.
Bannockburn, Pharmaceuticals

Walgreens Boots Alliance, Inc.
Deerfield, Drug Stores

W.W. Grainger
Lake Forest, Equipment Distribution

Zebra Technologies Corporation
Lincolnshire, Technology Services


Lake County Partners Led Collaboration to Align Economic Priorities Across the Region
In 2021, Lake County Partners convened business, education, workforce development and civic leaders from across the county to collaboratively align economic priorities across the region and complete a new Comprehensive Economic Development Strategy (CEDS).
The CEDS is an action-oriented, five-year economic development strategy that builds upon existing efforts and offers a roadmap for building prosperity in Lake County. After a review and analysis of quantitative and qualitative data, the CEDS was formed under a set of guiding principles including partnerships, equitable growth, recovery & resilience, and connectivity. Efforts are now underway to begin implementation.
The actions in the plan are organized into three areas:
Competitive Positioning
Elevates issues such as workforce development to make Lake County more attractive for business attraction and retention.
Transitional Redevelopment
Focuses on the built environment using strategies like the redevelopment of brownfield and greyfield sites, and prioritizing investments in downtowns and waterfronts.
Community Engagement
Tackles issues such as early childhood education and affordable housing and aims to make Lake County a stronger place.
We are Your Go-To Partner for Business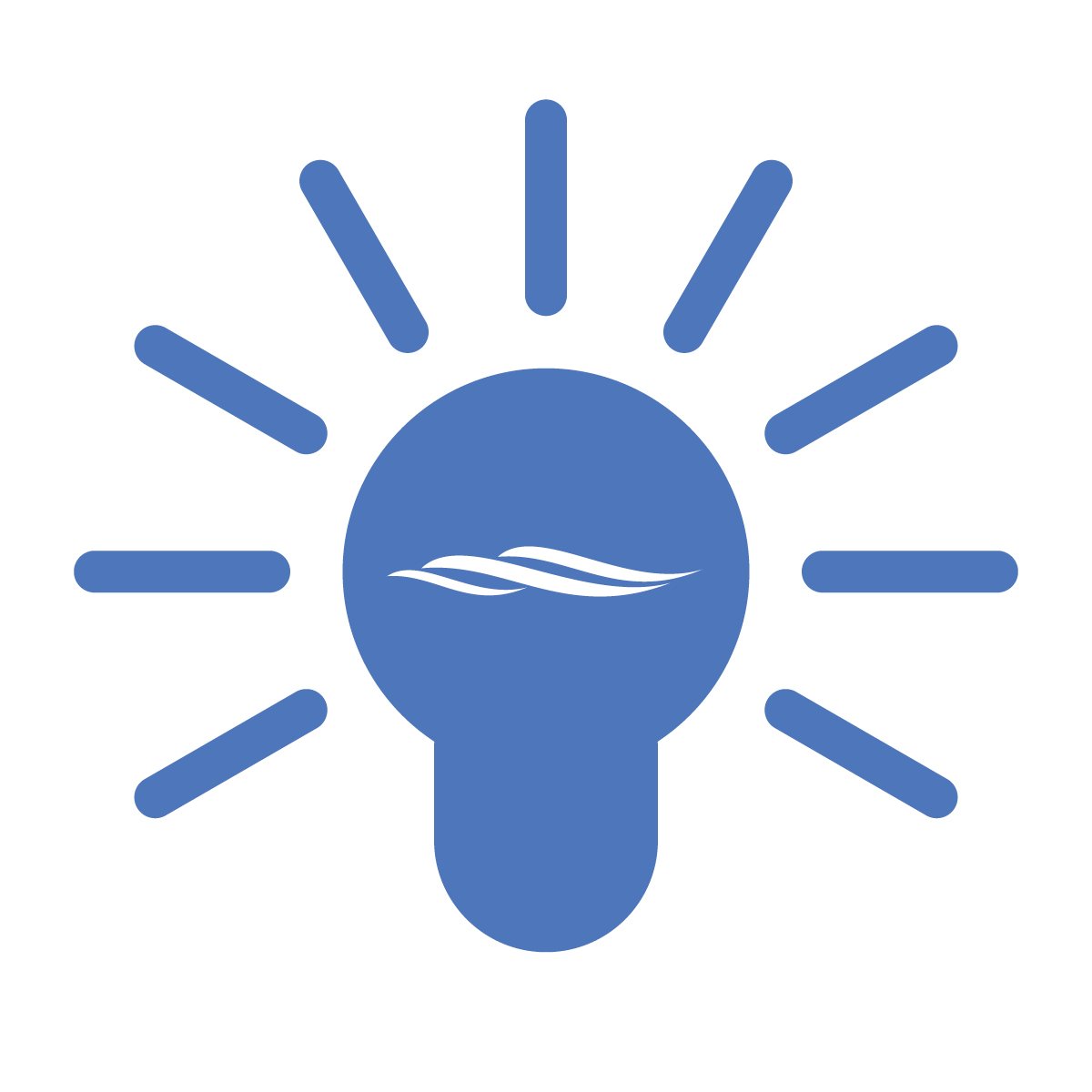 Lake County Partners is the go-to corporation for economic development in Lake County, Illinois. We transform economic opportunities into business realities by facilitating public and private collaboration to improve the local business climate.
We fuel growth by strategically nurturing the business climate on three fronts:
Attracting & Expanding Business: We encourage business investment, expansion and relocation to Lake County. From new developments to facility expansions, we connect real estate, development, utility and public sector partners to find solutions and ensure that businesses choose to grow in Lake County
Attracting & Developing Talent: We facilitate innovative partnerships and initiatives to strategically deepen the talent pool for targeted Lake County industries. By building an in-demand talent pipeline, starting in Lake County middle schools and extending through graduate schools, we work with our partners to cultivate, upskill and attract the people that businesses need.
Convening Business Leaders: We are the only entity in Lake County that is positioned to build coalitions of public and private sector partnerships to drive economic development.
THANK YOU TO THE BOARD OF GOVERNORS
David Alexander
Managing Member
Alexander Law, LLC

Marah Altenberg
Lake County Board Member
Lake County Government

Christopher R Blaylock, CPA
Partner
Wipfli, LLC

Darren Boundy
External Affairs Manager
ComEd

Derrick Burress
Principal
Lake County Tech Campus

Kevin Considine
President & CEO
Lake County Partners

Gabrielle Cummings
President, Legacy Acute Care Operations and Highland Park Hospital
NorthShore University HealthSystem

Jack Danilkowicz
Group Vice President, Commercial Strategy & Operations
Horizon Therapeutics

Frank Deuel
Senior Manager of Government Affairs
Comcast

Lawrence W. Falbe (General Counsel)
Principal
Miller Canfield
John Frese
Vice President of Corporate Services and Administration
Baxter International Inc.
Dean Glassberg*
Executive Vice President,
Chief Administrative Officer
First Midwest Bank

Trent Gordon
Vice President, Business Development, Northern Illinois Patient Service Area
Advocate Aurora Health

Don Hansen (Treasurer)
Senior Manager of Real Estate
W.W. Grainger, Inc.

Sandy Hart
Lake County Board Member
Lake County Government

Jim Hawkins
Deputy County Administrator
Lake County Government

J. Kevin Hunter
Lake County Board Member
Lake County Government

Thomas Hutchinson
Commercial/National Accounts Executive
Nicor Gas
Daniel J. Joyce
President & CEO
Portage Plastics Corporation

Richard Korengold (Chair)
Senior Managing Director, Wealth Advisor
Mesirow Wealth Management

Angelo D. Kyle
Lake County Board Member
Lake County Government

Charles Lamphere
President & CEO
Van Vlissingen & Company

Connie Lavin
Market President & Commercial Group Head, First Midwest Bank, A Division of Old National Bank

Christina Lechter
Director, External Affairs, Japan, Emerging Markets and Australia (JEM&A)
AbbVie

Joseph Luna
Executive Director, Middle Marketing Banking, Commercial Banking
JPMorgan Chase

Stephen L Madden (Vice Chair)
CEO
Libertyville Bank & Trust

Judy Martini*
Lake County Board Member
Lake County Government

Dr. Kevin Myers
Superintendent
Mundelein High School Districts #75 and #120

Donovan Pepper
Senior Director, Government Relations & Civic Engagement
Walgreen Co.

Dr. Wendy Rheault
President & CEO
Roselind Franklin Univerysity of Medicine and Science

James L. Rolfe
Managing Director, Middle Market banking
CIBC

Karen Stoneman
Vice President, Human Resources
Sysmex America, Inc.

Lori Suddick, Ed.D.
President
College of Lake County

Jessica Vealitzek
Lake County Board Member
Lake County Government

*Outgoing board member
"From the CEDS planning process, to organizing tours of local manufacturing plants, to convening thought partners around career pipelines in the region, Lake County Partners has led the work to connect our schools to local businesses and careers. Because of the support of Lake County Partners, our efforts to propel students to their first career placement have accelerated. The partnership is essential to our students' success."
"Lake County Partners does excellent work in promoting the region and its remarkable advantages. For instance, the life sciences industry in Lake County is outstanding and includes the largest biopharma cluster in the country. And, we've seen numerous advanced manufacturing companies locating and growing in Lake County. We are fortunate to have a partner like LCP to keep companies investing and creating jobs in Illinois."
"Lake County Partners' ability to assess and react to ever-changing business needs is crucial to making Lake County the premier area to do business. They have the business acumen, resources, and desire to transform economic opportunities and move any business forward."
"Lake County Partners does amazing work facilitating economic growth and community development. As a commercial real estate broker and developer, my career is fueled by local economic success. Lake County Partners continues to drive major site locations and strategic growth that makes my job placing happy clients in Lake County significantly easier."
"Our meetings with LCP have provided insights to growth in the County that have informed our decision-making about future clinic locations that our current data sets can't match. It's the personal touch of Kevin and staff that make LCP so unique."
Let's Connect.
We are a non-profit economic development organization supported by public and private sector investors, and our services are open to the public. We are skilled at quickly assessing your business needs and making sure that you have what you need to succeed.